2014.02.28 – 2014.08.18
Buildering: Misbehaving the City
Contemporary Arts Center, Cincinnati, Ohio
Buildering is a term coined for the unsanctioned use of architecture – fusing the words "building" and "bouldering" to describe a rapidly growing movement that reformulates how we live the city. Beyond acrobatics, vandalism and occupation, this practice becomes a metaphor for the creative misuse of built structure – denying the assigned/intended function of urban structures to re-open the possibility of alternatives. If we believe the premise that ideologies are implanted through the public's navigation of the city plan, then actions associated with buildering break the hypnosis of ritual and cultivate new freedoms – both physical and psychological.
Buildering will explore this phenomenon from a global perspective, gathering both established and emerging artists from around the world. The artists include Ivan Argote (Colombia/France), Bestue-Vives (Spain), Etienne Boulanger (France), Egle Budvytyte (Lithuania), Michel de Broin (Canada), Didier Faustino (France/Portugal), Shaun Gladwell (Australia), Wiebke Grösch & Frank Metzger (Germany), Alex Hartley (UK), Iman Issa (Egypt), Antal Lakner (Hungary), Los Carpinteros (Cuba), Alison Moffett (USA/UK), Adam Putnam (USA), Pia Rönicke (Denmark), Monika Sosnowska (Poland), Sebastian Stumpf (Germany), Kamila Szejnoch (Poland), Lee Walton (USA), Carey Young (UK) and Hector Zamora (Mexico/Brazil). Collectively they will generate a playful, mischievous and lively show with strong socio-cultural underpinning. (Steven Matijcio, curator)
The work of Michel de Broin delights in theatrical contradiction, inviting competing references to take up residence in material form. Survival, shields and satire are recurring motifs in his playful paradoxes, turning everyday furnishings into architectural conundrums. In past works like Shelter (2006), office tables meant to facilitate congregation and assembly are instead transformed into the armored components of a fortress-like structure. The benevolent democracy of coming together across the shared surface of a tabletop, thereby gives way to defensive upturned structures with legs pointed out. Anticipating outright assault, Testudo (2009) references the Roman "tortoise" military formation where soldiers would cluster together, overlaps shields and point their spears outward. The table as an archetype of communion is thusly divided into distinct factions of "inside" and "outside." Jeux de Tables is the most current iteration of this ongoing series, turning 24 otherwise ordinary desks into a multi-tiered board game without rules or resolution. Hierarchy and central organization are also conspicuously absent, suggesting a shift in tone where the binaries of top/bottom, inside/outside, individual/collective are collapsed in an open field of play. (SM)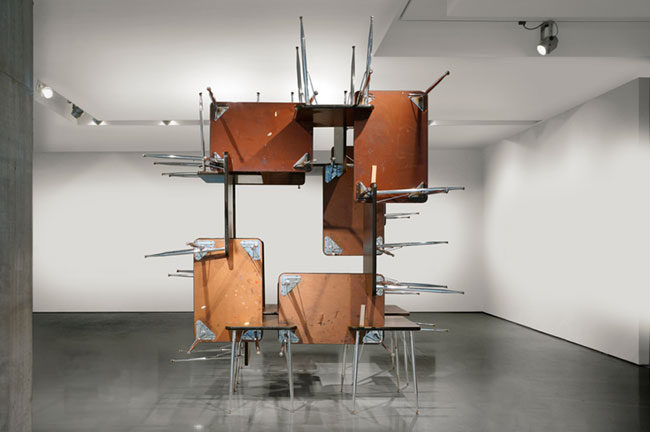 Jeux de tables, 2014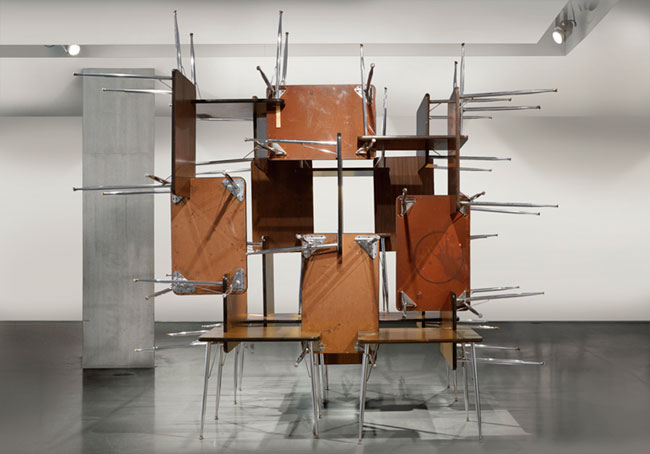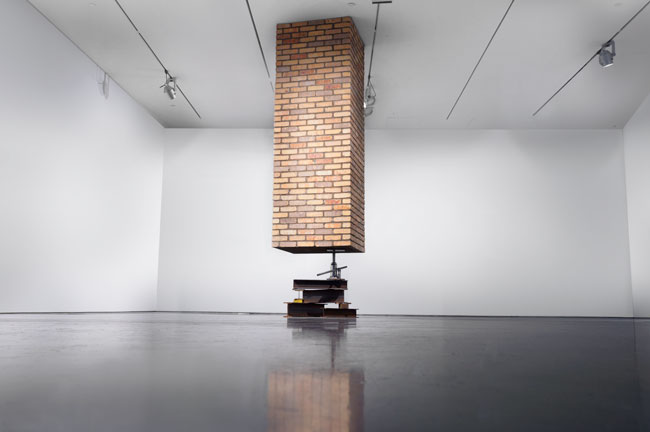 Anxious Stability, 1997/2014
This is a re-activation of one of de Broin's earliest works, and a performance of the "magic realism" with which he treats architectural absolutes. In the canons of such convention, the column stands alone as the archetypal load-bearing Atlas. In the CAC it assumes an especially conspicuous role as Zaha Hadid bestowed her concrete pillars with both aesthetic and spatial swagger. De Broin follows this lead but unsettles its structural conceit, turning the spotlight on a tentative column to examine its underlying contingency. Like walking into the middle of a levitation daydream, this column is squeezed precariously into space – resting on little more than a humble hydraulic jack and a stack of metal beams. Tension and titillation accrue in equal measure as the column is tenuously held in place against the ceiling, reversing the typical weight-bearing relationship between post and lintel. As it sits poised to tip, the illusions of certainty and control we impart upon our buildings also begin to teeter. Without function, free of architectural responsibility, this reborn column is allowed to float into new possibility. (SM)