2013.05.24 – 2013.09.02
La vie des choses
Musée d'art contemporain de Montréal, Montréal
Curated by Mark Lanctôt
This exhibition, organized by the Musée d'art contemporain de Montréal, is the first museum survey of work to be held in Canada.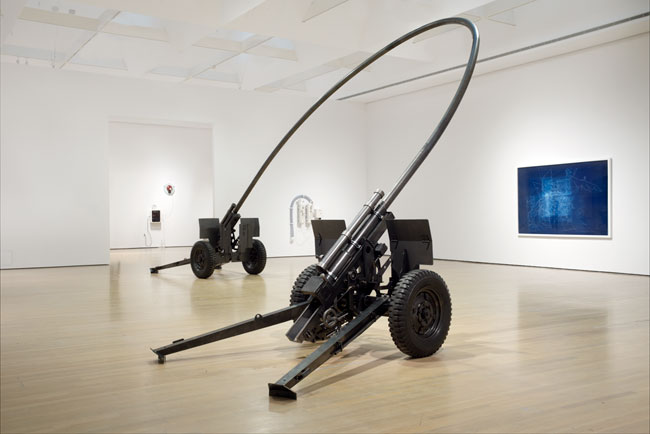 Blowback , 2013
105mm Howitzers replicas are united by a tubular element that creates a physical and symbolic link between the opposing forces. Blowback is a metaphor of a war won by the amorous sabotage of two cannons.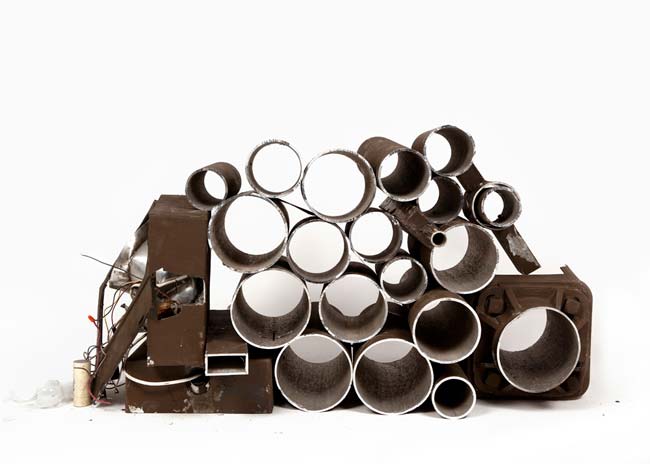 Pile, 2010
The photograph represents a lamppost cut into logs assembled in a wood cord.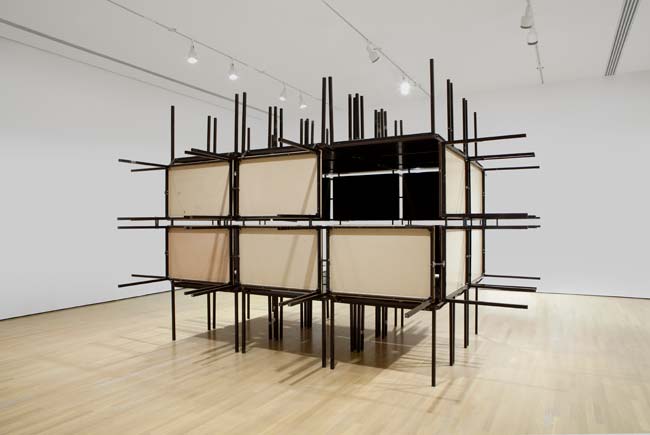 Testudo, 2009
36 tables are assembled in a defensive stance, legs pointing out. Showing their undersides, the tabletops create an inner space. The defensive schema evokes the Roman military formation called testudo in Latin, meaning "tortoise".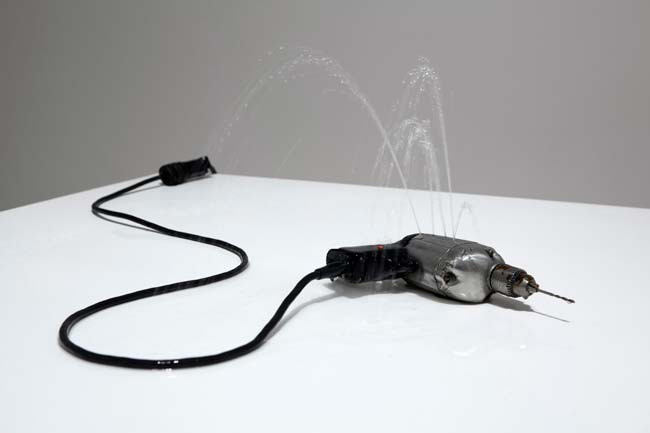 Bleed, 2009
A power drill is punctured by five holes through which it bleeds water, like a fountain. The drill has committed suicide as a functional object to start a new life as an artwork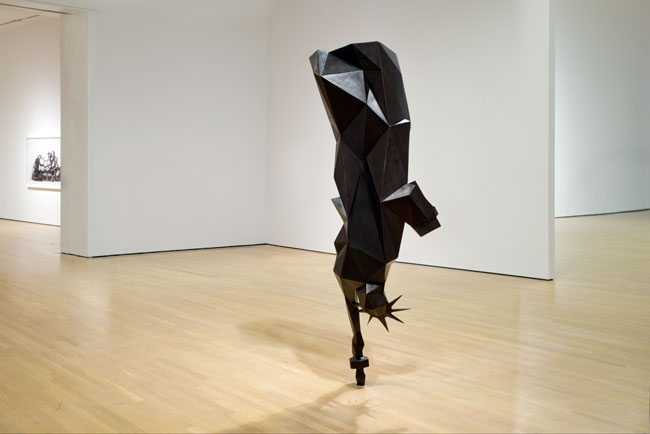 The Abyss of Liberty, 2013
Inspired by the work of Auguste Bartholdi, the sculpture is toppled to take on a new posture. It maintains its balance against gravity. From above, one can see its inner vacuity.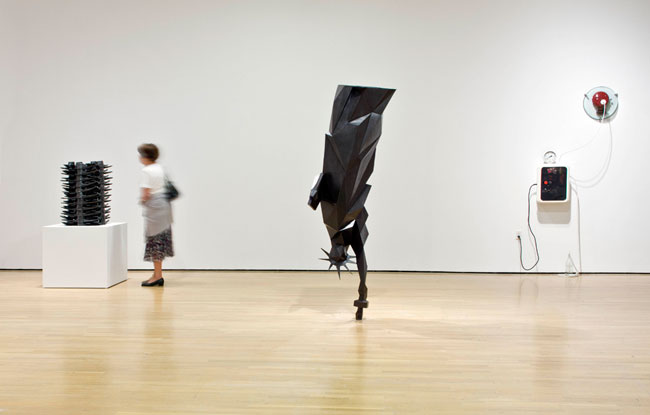 Installation view showing (l-r) Pickaxe Heads, The Abyss of Liberty and Silent Screaming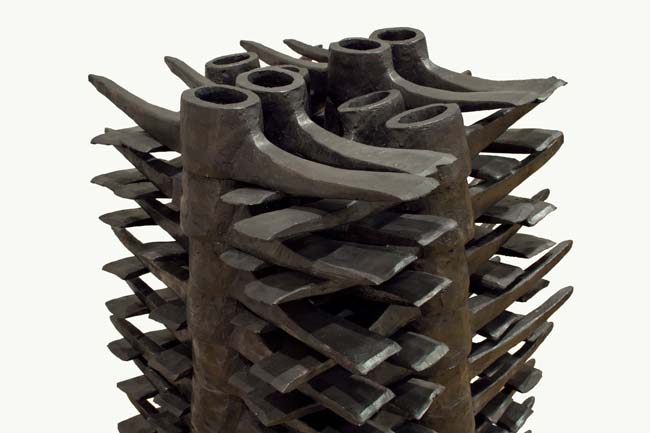 Pickaxe Heads, 2013
Pickaxe Heads is a sculpture that recalls the mass production of work tools. It was inspired by a visit to a foundry in Eastern Europe. Stacked like bones in catacombs, the pickaxes are piled up like so many lives of labour.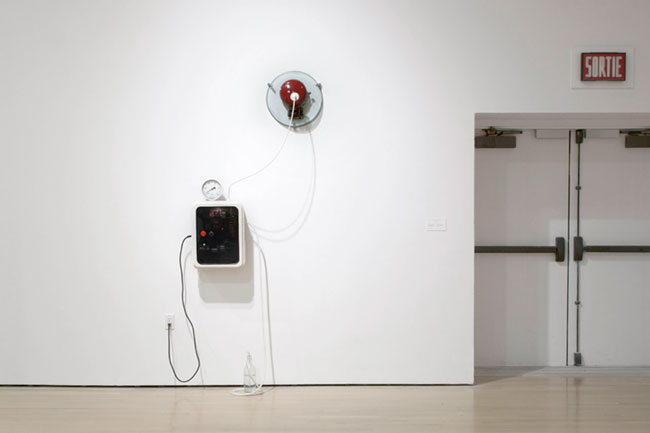 Silent Screaming, 2006
This device is designed to silence an alarm system by creating a vacuum, an environment where sound cannot travel. The movement of the hammer striking the bell is visible but the alarm's "scream" is inaudible.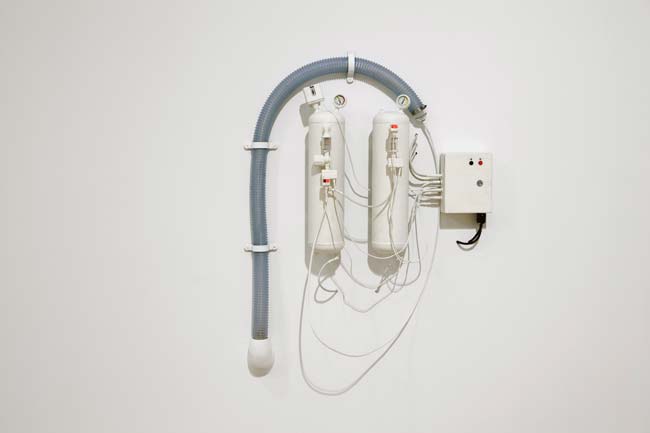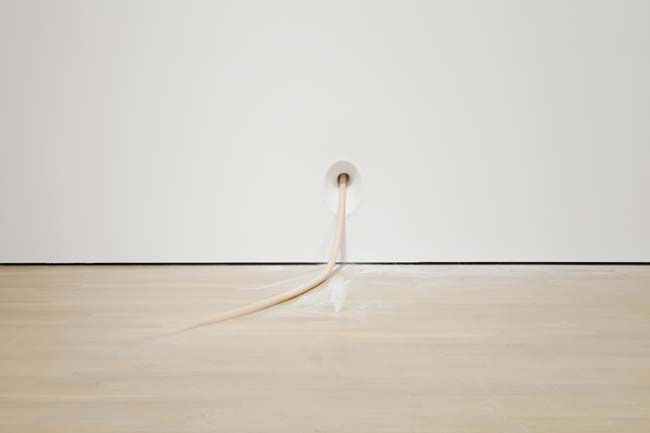 Lost Object, 2002-2013
When someone enters the space, this soft sculpture hides away in its hole to escape the visitor's gaze. A repurposed refrigerator pump is used as a motor. Behind the wall, we notice the apparatus in which the sculpture takes refuge, waiting for the exhibition space to be vacated of any other presence.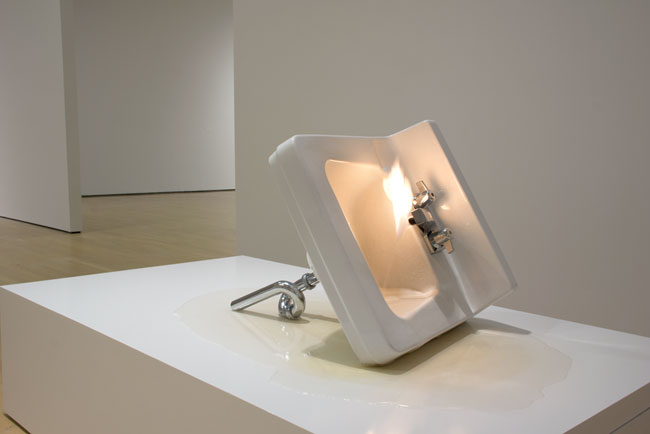 Étant donnés, 2013
A mixture of water and fire flows from a sink lying on its side. The co-existence of opposing elements manifests itself in a familiar object rendered uncanny.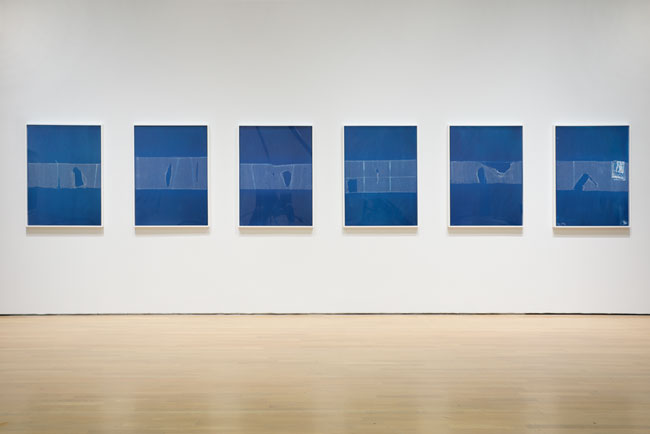 Anthropometry, 2013
Cyanotype prints on Stonehenge paper, 76 x 102cm. This series of drawings depicts a collection of holes in fences. Each opening is the trace of an informal passageway that stands in opposition to the partitioning of public space. The regular weave of the fences' grid is distorted by successive cuttings that create both new motifs of openings and possibilities of circulation.