2016.12.03 – 2017.01.17
Whole World Working
Collective gallery, Edinburgh, Scotland, UK
Collective exhibition
W.W.W. (Whole World Working) is an exhibition that brings together artworks and writings considering the possibilities of a world without borders. American architect and designer R. Buckminster Fuller's 1968 Operating Manual for Spaceship Earth outlines that our understanding of the world is impeded by its division into nation-states and that demarcation by borders causes economic and social disparity. He argues that the computer, which can operate beyond financial and political practicalities, offers a solution to this disparity. Buckminster Fuller's ideas have inspired much utopian and emancipatory thought in the wake of the development of the World Wide Web. In the exhibition W.W.W. Buckminster Fuller's utopianism is explored in relation to our geopolitical reality, particularly given the renewed energy of nationalist and isolationist politics since 2008. Works and texts by Michel de Broin, Alessandro Di Massimo, R. Buckminster Fuller and Ben Russell with design by Kaisa Lassinaro, Yorgos Stavridis with Dimitris Aatos Ellinas invite us to focus on the contradictions between geopolitical restraints and allegedly borderless information technologies. This project has been developed by Anastasia Philimonos as Associate Producer for Satellites Programme 2016.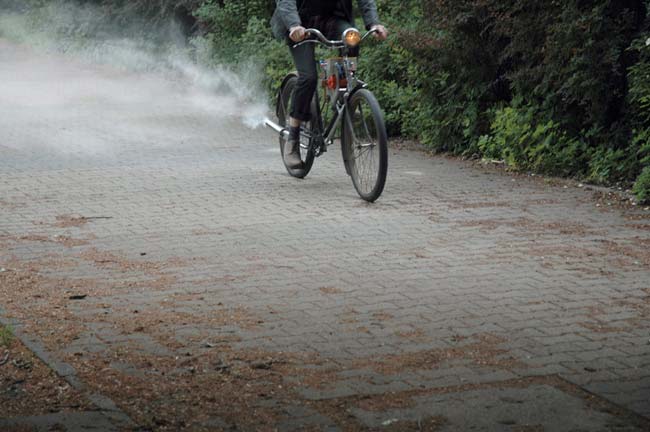 Keep on Smoking, 2005, 100 x 85 x 60 cm