2012.03.15 – 2012.06.25
Pleinairisme
Musée National des beaux arts du Québec, Québec
Curated by Kitty Scott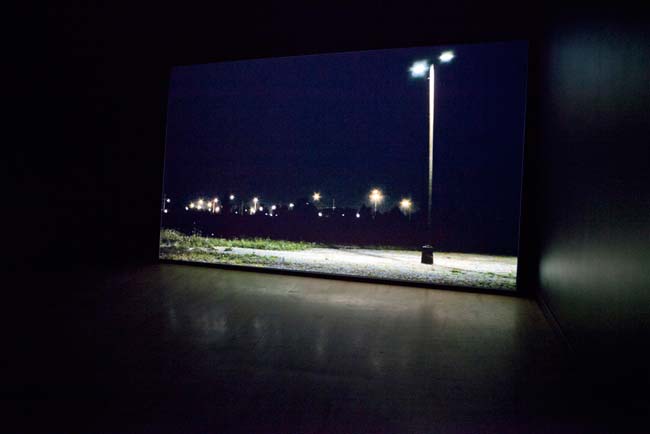 Installation View of Cut into the Dark, 2010, 4 mins 2 secs
"Since 2007 Kitty Scott has overseen multiple residencies touching on contemporary plein-air practices, a theme she continues to highlight in the Musée national des beaux-arts du Québec exhibition À Ciel Ouvert: Le Nouveau Pleinairisme. Acting as a guest curator for the MNBAQ, Scott has brought together works by a range of artists spanning from international heavy-hitters to younger Canadian up-and-comers. The grouping provides various perspectives onto this theme". À Ciel Ouvert: The Art of the Outdoors Review by Leah Sandals, Canadian Art. As part of this group exhibition, showing alongside other contemporary artists such as Francis Alÿs, Anri Sala, Peter Doig, Geneviève Cadieux, Cyprien Gaillard & Hreinn Fridfinnsson, Michel de Broin has been invited to show his video work Cut into the Dark and its sister sculpture Pile. In this video, a protagonist cuts down a lamppost with a chainsaw. The operation lasts several minutes before it tumbles to the ground. In the roar the lightbulbs shatter and instantly plunge us into darkness. The darkness left by the absence of light allows a shadowy zone to emerge where one can from now on better observe the night.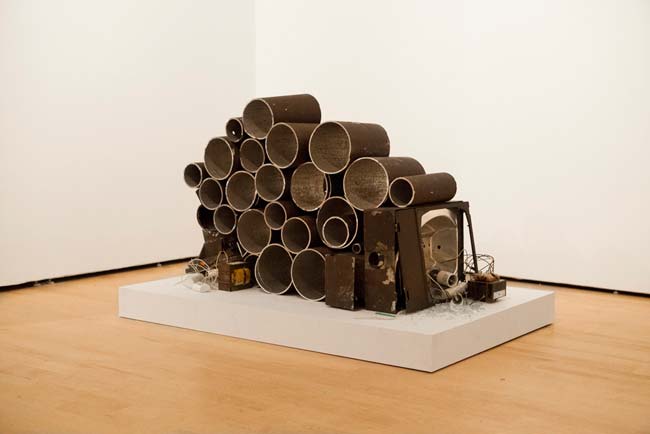 Pile, 2010, Variable dimensions
Installation view from the Musée National des beaux arts du Québec of the lamppost cut into pieces and piled-up like a wood cord.