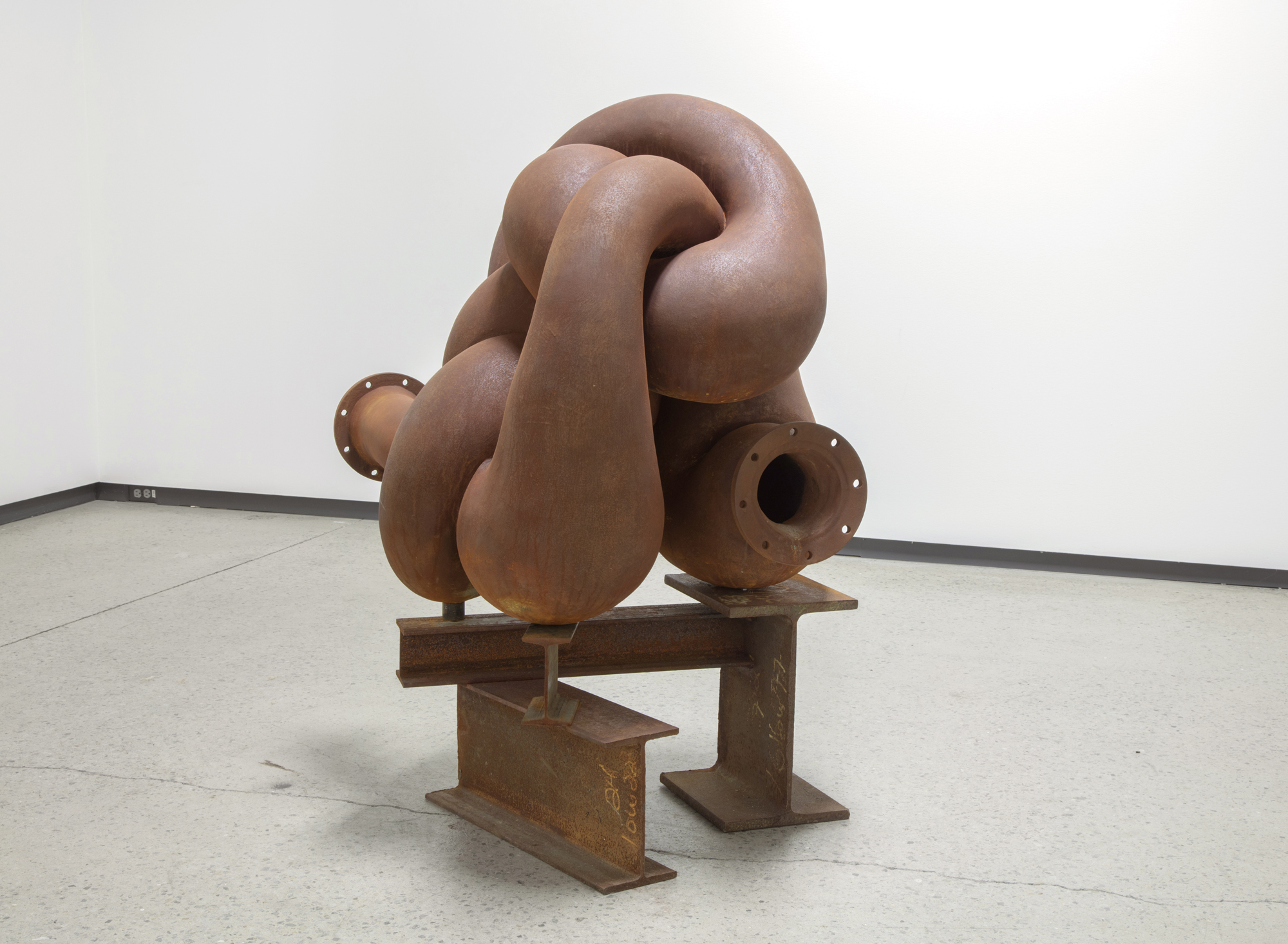 NEWS
---
2018.11.02 – 2018.11.04
Man Ray, Michel de Broin, Juliette Goiffon & Charles Beauté
Artissima, Turin (Galerie Eva Meyer)
The proposition for the 25th anniversary of Artissima, is to present three generations of artists who redefined a reflexion about Art through their works on daily or found objects. Flirting with the tradition of Surrealist and Dadaist, the Artefacts of Man Ray, well-known for his photographs, will put a light on a historical use of the everyday objects into an artistic context. Michel de Broin (1970, Montreal) has a multifaceted production dealing with energy flows, entropic devolution and the forms of visual, spatial and technological paradox that derive from these forces. Crafting unforeseen relationships between waste, productivity, risk and consumption, de Broin defamiliarizes established modes of signification in everyday technical environments. Juliette Goiffon & Charles Beaute? (1985 and 1987, Lyon Fr) are two young artists working on the new technologies, their obsolescence or their limits by questioning them through the spectrum of memory or archeology. The object manufactured reminding daily objects becomes the materialization of a deep reflexion. Each particular object is reactivated by the artist's gesture. Sculptures, installations and photographs, each technical process comes to question in turn material, shape or the practice in itself.
2018.10.20 – Work in progress
Deviations
Vancouver Biennale, Vancouver
For the Vancouver Biennale, Michel de Broin explores the power of a hazard to defy the inherent rationality of urban planing. The work consists in a series of three improbable cycle paths that intertwine prolonging the existing lanes. Accessible to the public, the works will be installed in different neighbourhoods of Vancouver.
The artwork is made of raw material belonging to the urban environment: bitumen, yellow paint and street signs. The installation activates the potential of a random physical gesture. A rope was dropped several times on top of an aerial photograph of the city, creating as many unpredictable squiggles. The artist selected one resulting pattern and enlarged it 100 times at the scale of the landscape to create an asphalted path. At the entrance of the installation, a road sign signals the random pattern. The yellow diamond shape of the road sign recalls traffic symbols warning about hazardous locations. The tern hazard comes from the Arabic word for chance (azzahr) meaning "game of dice". The design of this path is an expression of chance challenging the predictable logics of urban landscaping. This installation confronts the regularity and functionality of modern cities usually developed to suppress hazards—the dangerous side of chance. It deploys chance as an unpredictable experience, opening up new avenues for imagination and mobility.
2018.09.13 – 2018.11.17
La conduite des conduites
Galerie Division, Montreal
The exhibition La conduite des conduites proposes an interplay between the modeling of behaviour (the French conduites meaning 'conduit' but also 'behaviour' – in this case of objects or bodies) and the channeling of emotional responses, flows and energy. Using common objects – furniture, pipes, flanges, and light bulbs – the artist complicates our understanding of familiar technical systems, deforming, rupturing or boring holes in otherwise recognizable forms and encouraging the viewer to untangle each object's contradictions. The curves and sinuosities of his conduits pit dynamic circulation against resistance and dissipation. Defying our expectation that industrial systems be efficient, optimized, and innovative, de Broin imagines systems foreign to those we value in our daily lives. The works open gaps in the world, introducing flaws and spaces freed from the causality shaping our relationship with design.
Sentient bodies lurk behind these ostensibly technical objects. While we expect them to function and produce, the unpredictable assemblages escape the world of things in search of new and sensitive possibilities.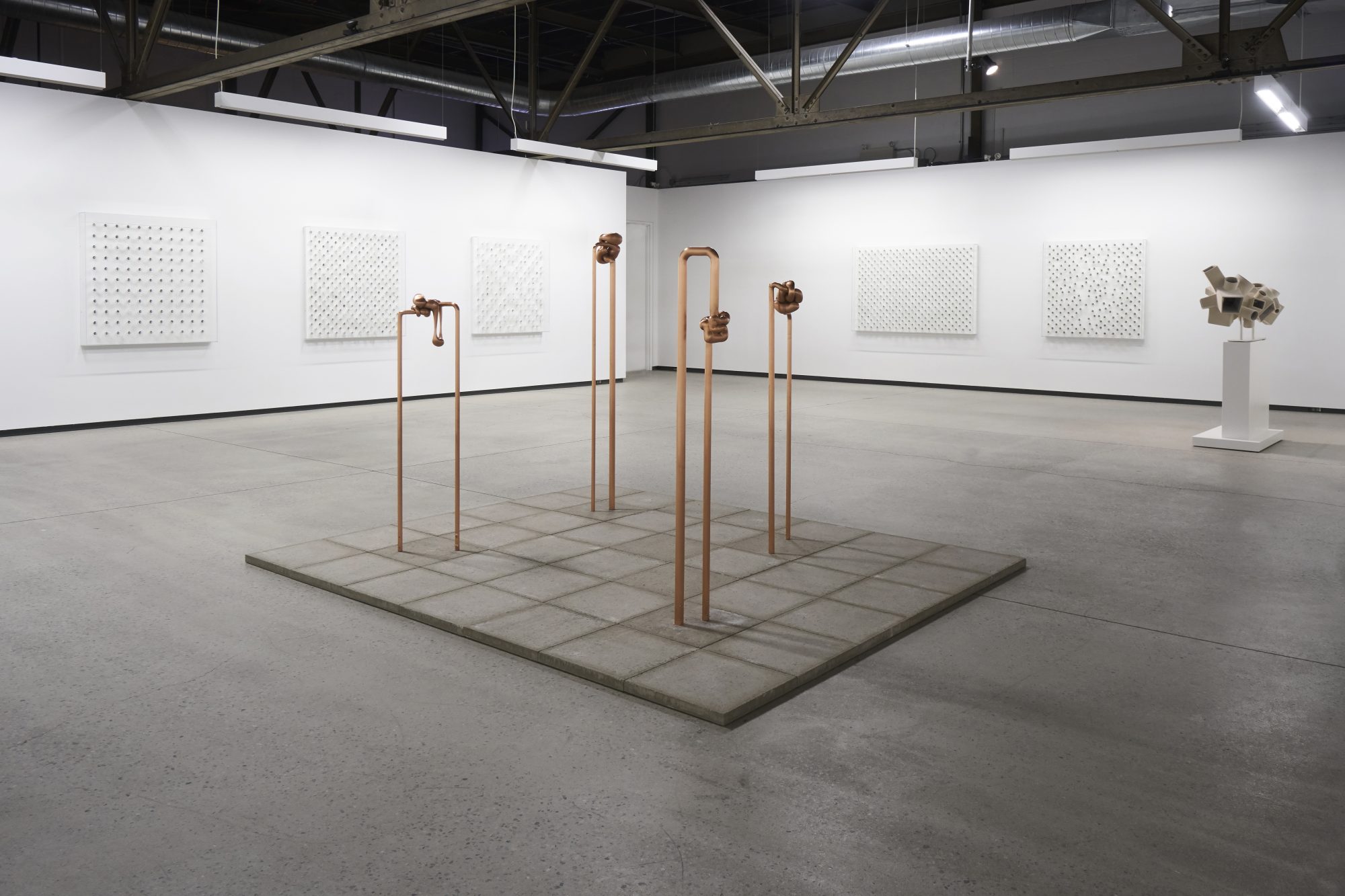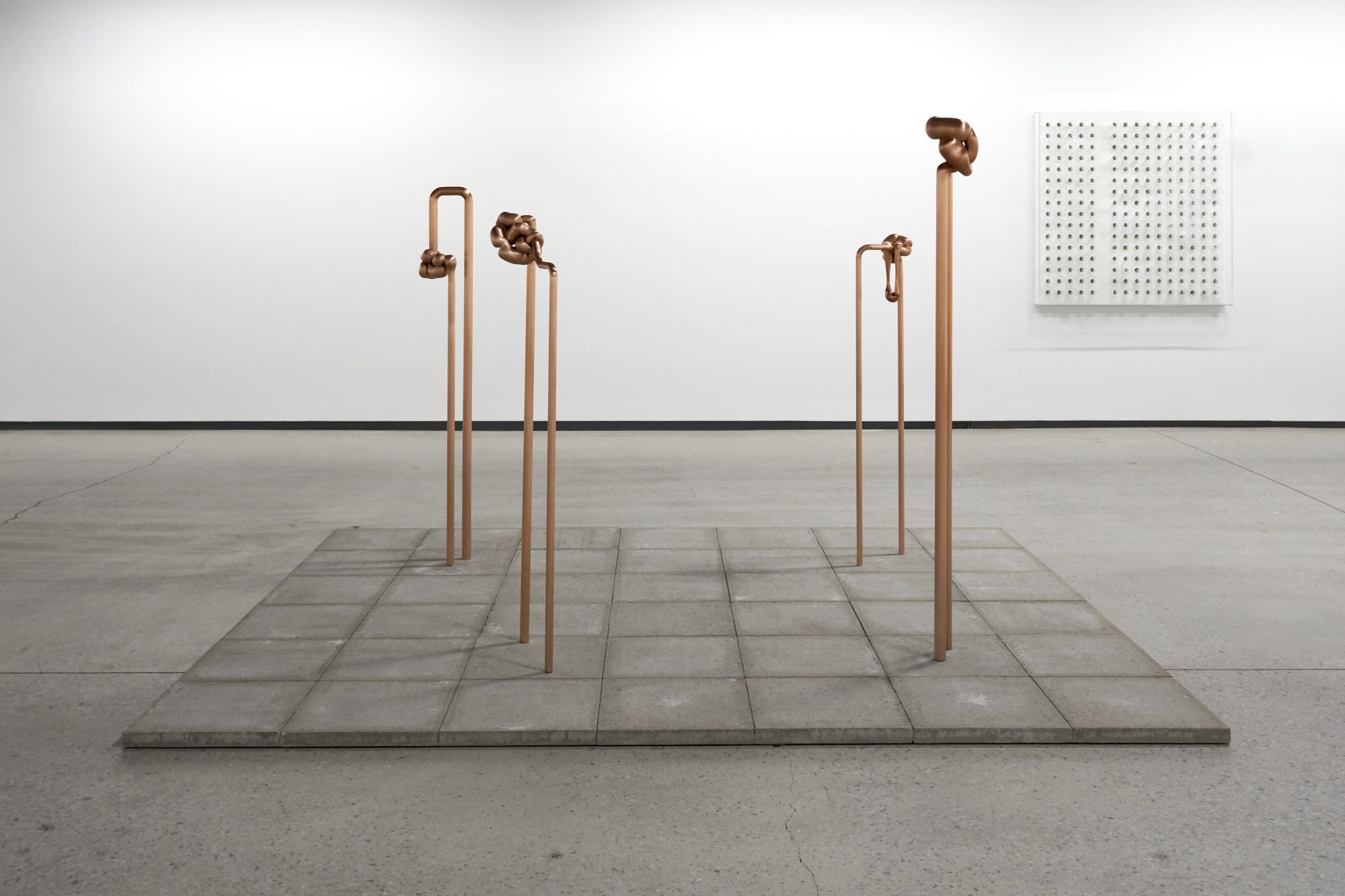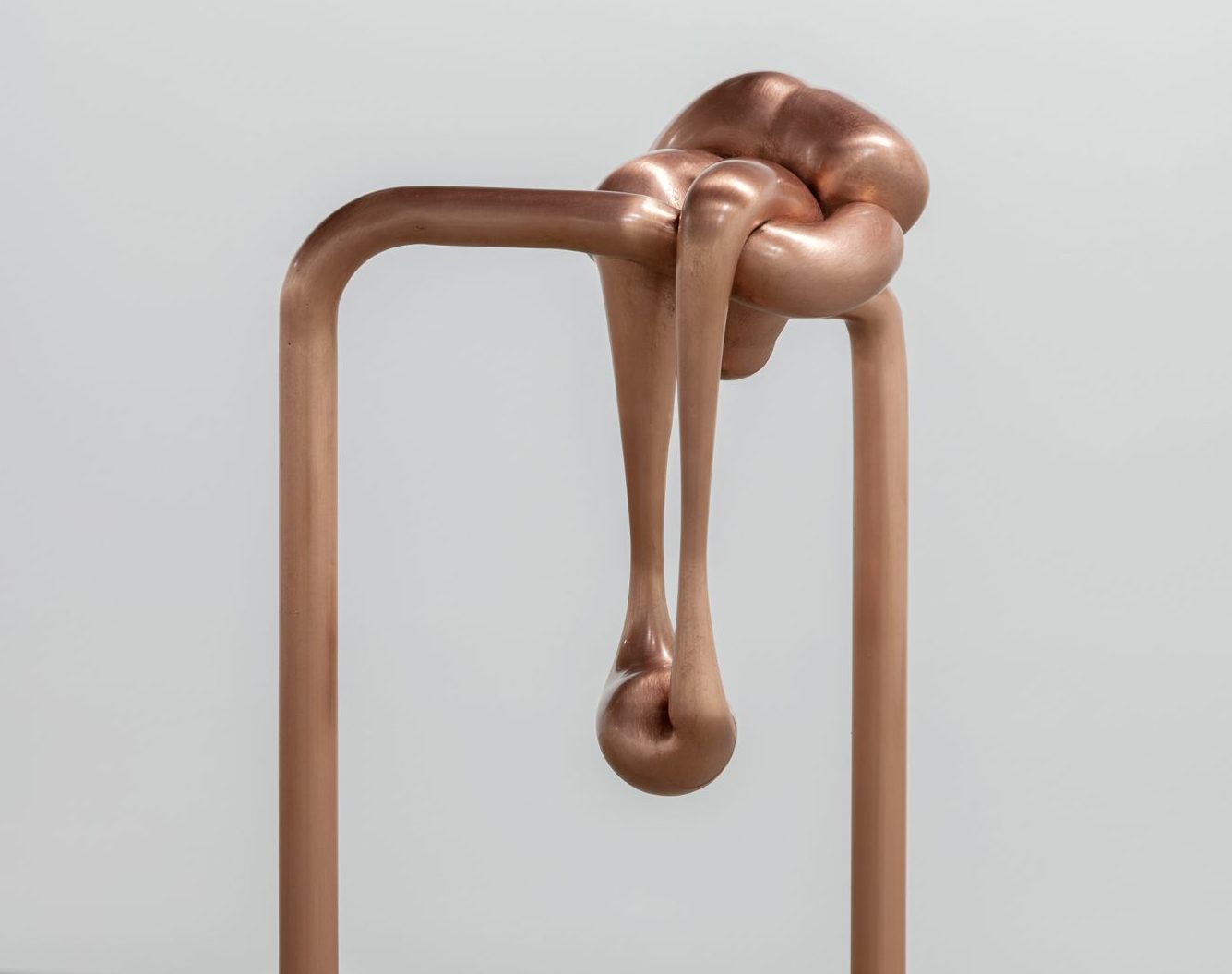 2018.07.07 – 2018.08.12
Natura Loci
Magasin Général, Studio International en création multidisciplinaire, Sainte-Madeleine-de-la-Rivière-Madeleine, with the artists Janet Biggs; Patrick Coutu; Michel De Broin, Séverine Hubard. Curated by Paul Ardenne
The history of Ste-Madeleine-de-la-Rivière-Madeleine is itself awash with surprising tensions, between a local life that was initially defined by fishing and now by tourism, then the pulp and paper industry and its ensuing brutal disappearance, not to speak of the not-so-far-away presence of oil fields and the looming question of how to transport this resource… These are tensions that Michel De Broin drew inspiration from to create Syndrome, a singular sculpture made of metallic tubes that both evoke transit (that which flows) and intestinal obstruction or indigestion (that which is blocked). A poetic, at once biting and thought-stimulating, evocation of this site. Syndrome consists of a metal tube that is disconnected at its ends and twisted on itself. Evoking an organic body, the proposal seeks to go beyond the implicit reference to a pipeline that has been blocked by being tied into a knot. Its structure is far more complex: the knots are intertwined and thus transform a sombre news item into an introspective and disturbing form that provides no answers. The form recalls the generous curves of the Venus of Willendorf. The contortions of the tube causes a swelling that evokes a living organ; something like a distant reminder of the organic origins of petroleum. "The project does not seek to protest against he inherent dysfunctions of fossil fuel energy, the artist states, but to think about our condition. We are ourselves pipelines and we will eventually serve as a sediment for future
News Archives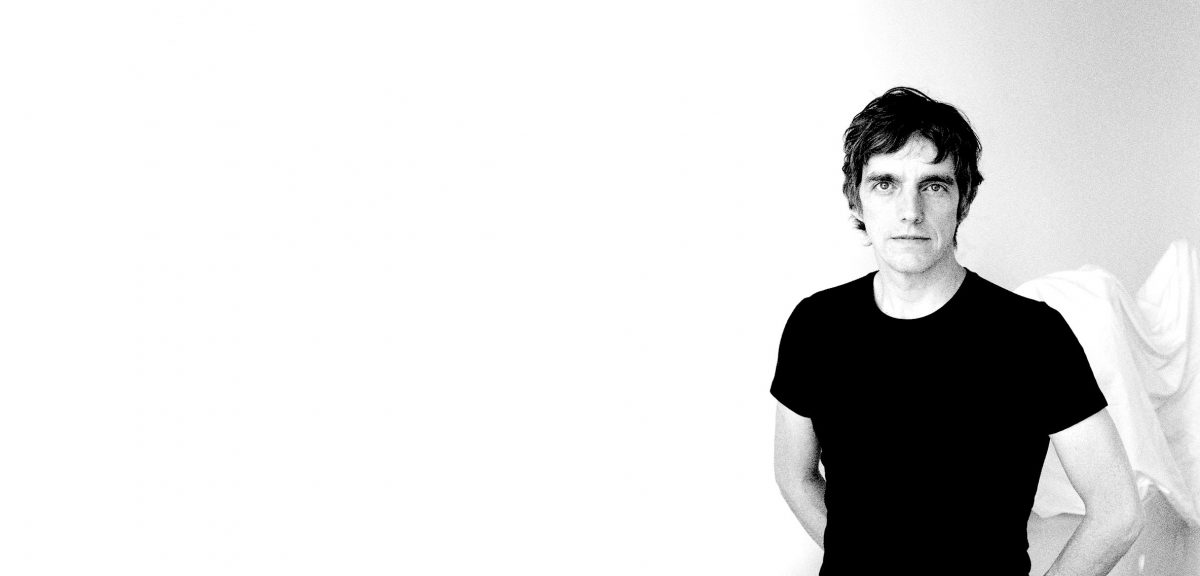 Michel de Broin deepens his cross-disciplinary practice by developing an ever-expanding visual vocabulary. His multifaceted approach to production explores the intersections between technological, biological, and physical systems. Crafting unforeseen relationships between waste, productivity, consumption and risk de Broin challenges the ostensible use-value and conventional associations of familiar objects and symbols, infusing them with new meanings and contexts.
His work has been exhibited at the Musée d'art contemporain de Montréal, the Musée d'art contemporain Val-de-Marne; France; the Künstlerhaus Bethanien, Berlin; The Plug-In Institute of Contemporary Art, Winnipeg; Museum Tinguely, Basel; Centre d'art Villa Arson, Nice;  Eyebeam, New York; Hessel Museum of Art, New York; Contempoary art Center, Cicinnati;  Villa Merkel, Esslingen; . His work is held in several museums and public collections, including the National Gallery of Canada; the Art Gallery of Ontario; the Musée des beaux-arts de Montréal; Le Musée national des beaux-arts du Québec; The City of Montreal; FRAC Poitou Charentes, France; and The Neuer Berliner Kunstverein, Germany. His public art works and commissions include Dendrites (2017) Montreal; Threshold (2017) Montréal; Interlude (2016) Québec city; Bloom (2015) Calgary;  Possibilities (2012) Mississauga;  Interlace (2012) Changwong; Majestic (2011) New Orleans; Revolution (2010) Rennes; Arc (2009) Montréal; La maîtresse de la Tour Eiffel (2009) Paris; Overflow (2008) Toronto; Encircling (2006) Christchurch; Shared Propulsion Car (2005) New York and Toronto (2007); Révolutions (2003) Parc Maisonneuve-Cartier, Montréal.
Recipient of the 2007 Sobey Art Award, de Broin has also received grants from Canada Council for the arts, the Harpo Foundation (Los Angeles) and Krasner-Pollock Foundation (New York), and was awarded a residency at International Studio and Curatorial Program (New York), Kunstlerhaus Bethanien, Acme studio (London)  and Villa Arson (Nice). He is represented by the Galerie Division, Montreal.